Site Search
5mm Solid Wood - Ideal for Engraved Plaques, Door Signs & Keyrings
These 5mm engraved wood plaques are ideal for interior signage including office door signs and name plates.

They are used in Hotels, Offices, Shops and Doctors Surgeries. We can also engave and shape the wood for keyings.

Solid Maple

Solid Oak

Solid Cherry

Solid Walnut
The laser burns the lettering and images into the engraved wooden plaques and therefore paint fill is not necessary. However we can paint fill lettering if required @ £8.50. Standard colours are white and black, but other colours are available - Click Here
Sizes and Prices
Interior use only - 5mm thickness

Prices include 50 characters. Extra letters £3.00 per 50. Post & Packing Information
75mm
3"


100mm
4"


150mm
6"

225mm
9 "

300mm
12"

375mm
15"

450mm
18"

600mm
24"

50mm
2"

£24.83
£26.25
£29.11
£45.87
£50.15
£63.65
£67.93
£76.49

75mm
3"

£26.63
£28.44
£32.05
£49.94
£55.36
£69.99
£75.40
£86.23

100mm
4"

£28.44
£30.62
£34.98
£54.01
£60.56
£76.32
£82.87
£95.97

150mm
6"

£32.05
£34.98
£40.86
£62.15
£70.97
£89.00
£97.81
£115.44

200mm
8"

£48.14
£51.83
£59.21
£70.29
£81.37
£101.67
£112.75
£134.91

300mm
12"

£55.36
£60.56
£70.97
£86.58
£102.19
£127.02
£142.63
£173.85

3mm Wood Veneer - Ideal for Small Wood Plaques, Awards & Keyrings

For small engraved wooden plaques the wood veneer is ideal. It has a fibreboard core with real wood laminated on both sides. The finished thickness is 3mm. These are again useful for office door signs and name plates or indeed any internal signs. As well as lasering detailed lettering and images onto the plaque we can also cut the plaque into shapes if required (£7.50) It is also possible to mount the engraved plaque onto a backing board.

Maple Veneer

Bamboo Veneer

Cherry Veneer

Walnut Veneer
Text and images are engraved into the wood plaques, usually by laser. However we can use the rotary engraver if prefered.
75mm
3"


100mm
4"


150mm
6"

225mm
9 "

300mm
12"

375mm
15"

50mm
2"

£22.88
£23.78
£25.60
£40.79
£43.51
£55.44

75mm
3"

£24.00
£25.12
£27.35
£43.19
£46.55
£59.12

100mm
4"

£25.12
£26.45
£29.11
£45.59
£49.58
£62.79

150mm
6"

£27.35
£29.11
£32.63
£50.38
£55.65
£70.14

200mm
8"

£42.07
£44.25
£48.62
£55.17
£61.72
£77.49

300mm
12"

£46.55
£49.58
£55.65
£64.76
£73.86
£92.18
Order Online Now

HOLES
Double sided tape is attached at no extra cost or holes can be drilled if preferred.

LETTERING
We can engrave the letters in a variety of fonts.

IMAGES

We can include images on the signs. We have a large selection CLICK HERE - or you can send in you own artwork - The cost is £12.50 per standard image up to 100mm.

Costs for your own artwork depend on whether or not artwork has been vectorised (outline/traced) in a PC format - file types AI, or EPS. More Details

Font Times - . Solid Oak.
Picture from our standard artwork selection
Layout
If you have a particular layout in mind please send it to us as a sketch, jpg, gif or tiff image or a word document We will re-create your design as closely as we can. If you send artwork which has been vectorised (outline/traced) in a PC format - file types AI, or EPS we can engrave it exactly as it is sent.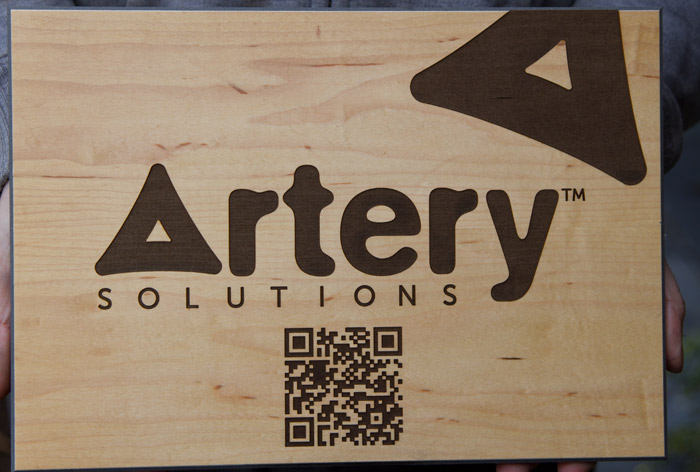 Created from customer artwork
---
Engraved Wooden Plaques in 20mm Oak

We can also engrave plaques in thicker timber. The two examples here have been engraved in 20mm oak. These are suitable for outdoor use as well. Prices are similar.

Click here for more information.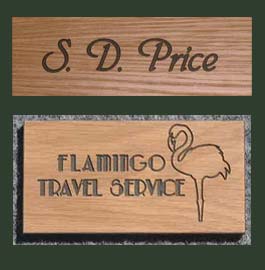 Place your Order
Use the Online Shop


Its easy to order online. Pay by Card, Cheque or Online Banking

By phone - 01769 561355
Monday - Friday 9.00am - 4.30pm
By email - sales@sign-maker.net
Design Your Own Sign / Plaque
.You create the design - we send you a quote
Easy Pay Tell us what you want - we will send you the price with an Easy Pay link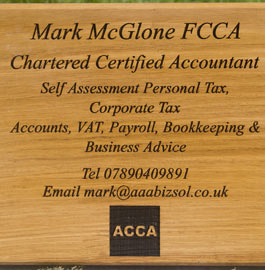 Most of our signs are sent by courier and a signature will be needed. We can send the parcel to your works address.

Didn't find what you were looking for?
Click on full colour
Site Map
or use search bar above.
Our team at The Sign Maker looks forward to helping you with your engraved wooden plaque.
.