The Sign Maker for the very best in Bespoke House Signs :Cast Brass House Signs & Name Plates - heavy signs with a real quality feel


Site Search
Made of cast brass, these name plates can be painted in Black, Red, Purple, Blue, Green or Maroon. Several lines of wording can be incorporated, by reducing the letter size. We can include a house number or a motif on your house sign if required. See motifs below

NB These signs are not suitable within a 20 mile radius of coastal areas as they may corrode.
House Signs


Rectangular Shape Brass House Sign

B1: 305 x 65mm £76- P&P E
B10: 300 x 175mm £127- P&P F - out of stock
B11: 430 x 100mm £109- P&P H
B24: 445 x 250mm £199- P&P F - out of stock
B25: 500 x 350mm £299- P&P F
Order Now



B8 - only 7 characters in row
Rope edge

Oval Brass Name Plates

B2: 330 x 250mm £141 - P&P H - out of stock
B14: 405 x 280mm £189 - P&P H
B22: 445 x 300mm £199 - P&P H - - out of stock
B23: 525 x 3750mm £299 - P&P H
B8: 190 x 140mm £84- P&P E
Order Now

B8 can only use motif M1
maximum of 7 letters per line




Arch Top Cast Brass Signs
B16: 190mm x 170mm £85- P&P E
(B16 - max. of 7 characters in row )
B3: 190mm x 360mm £142- P&P F
B13: 195 x 430mm £182- P&P H - out of stock
B20: 445 x 250mm £199 P&P H
B21: 500 x 350mm £299- P&P H
The most appropriate sized letters will be used to create a balanced appearance of your chosen size of sign or name plate.

Each motif is available in a range of sizes and the most appropriate size will be used to achieve a balanced appearance.

Motifs for Cast Brass House Signs


M1


M2 - flower


M3 -daffodils


M6



M5 -robin


M4 - rose


M7 - squirrel

Motifs on cast brass house signs are usually left as plain brass. However we can on request have them painted as shown in this image.

Cast Brass House Numbers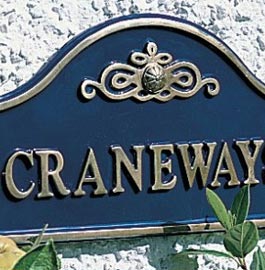 Place your Order
Use the Online Shop


Its easy to order online. Pay by Card, Cheque or by Online Banking BACs

By phone - 01769 561355
Monday - Friday 9.00am - 4.45pm
By email - sales.signmaker@gmail.com
Design Your Own Sign
.You create the design - we send you a quote
Easy Pay Tell us what you want - we will send you the price with an Easy Pay link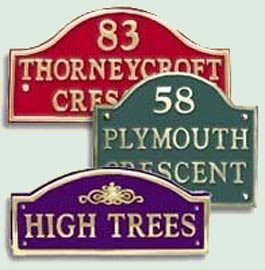 Most of our signs are sent by courier and a signature will be needed. We can send the parcel to your works address..

Didn't find what you were looking for?
Click on full colour
Site Map
or use search bar above.
Made in the UK. Our team at The Sign Maker looks forward to helping you with your bras house sign.