Site Search
Traditional Cast Signs Using Modern Materials
These signs are cast in one piece using a very high quality polyurethane. This is an extremely tough hard wearing material which is solid, rigid and does not corrode.

It has a distinct advantage over cast metal in that the lettering is crisper and the motifs, logos and crests can be much more intricate.

Once the sign has been cast and cleaned, it is then painted. We have a variety of background and letter colours. The motifs are then painted along with any extra painting on the flat plate of the sign.

For more information have a look at our blog posts -
Perfect Polyurethane


House Signs & House Numbers
Signs can be made to almost any size, but to keep costs down we have a selection of standard sizes and shapes as listed below. Motifs, crests and logos can be cast or just painted onto the flat plate of the sign.

In addition we can quote for for bespoke house signs in different shapes and sizes.

The standard fonts for our cast polyeuranthane house signs are Times New Roman or Franklin Gothic.

However it is posible to have special patterns made for other fonts. The one in the image - The Waldrons - is Edwardian Script. The cost for using special fonts is £5 per letter.
Polyurethane is also ideal for street signs and entrance signs. Being one of the toughest and most abrasion resistant materials around, it can cope with roadside pollution, salt spray, severe weather conditions and it even resists chemical attack. This is why it is so often used for street furniture applications such as bollards, lamp posts coats of arms and street signs.

The raised motifs can be created from customer artwork and include complex designs such as crests and coats of arm. These are then all painted by hand. Polyurethane has a closed cell structure which not only makes it very stable but prevents moisture from seeping under the surface and lifting the paint.

The FIRST FLIGHT plaque is bronze effect polyurethane - for real bronze - Click Here

Brackets and channels for fixing to standard highway type posts are also available. Ask us for a quote sales@sign-maker.net
The largest sign sign which can be made is 3m x 1.5m as this is the size of the largest sand casting box!

Our artists are excellent and can create a pattern from the most unlikely sources.

The idea for this sign came from a design printed on a cushion.
Finally it should be noted that polyurethane is practically inert towards the environment and contains no atmosphere damaging chlorofluorocarbons.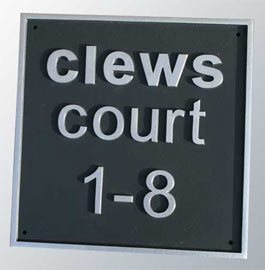 Place your Order
Use the Online Shop


Its easy to order online. Pay by Card, Cheque or by Online Banking BACs

By phone - 01769 561355
Monday - Friday 9.00am - 4.45pm
By email - sales.signmaker@gmail.com
Design Your Own Sign
.You create the design - we send you a quote
Easy Pay Tell us what you want - we will send you the price with an Easy Pay link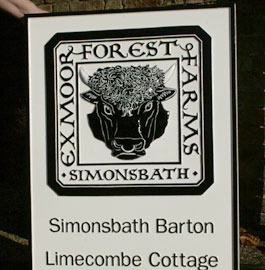 Most of our signs are sent by courier and a signature will be needed. We can send the parcel to your works address..

Didn't find what you were looking for?
Click on full colour
Site Map
or use search bar above.
Made in the UK. Our team at The Sign Maker looks forward to helping you with your hand painted house sign.