Site Search
Our carpenters make up the large business signs to order.

The timber normally used for large signs is Oak, Red Cedar, Iroko, Sapele or Douglas Fir.

Each timber has advantages and disadvantages as discussed below.

Letter colour can be black, brown, white, blue, green or red.
OAK

Oak is a beautiful timber, it is hard, heavy and durable. Its main disadvantage is that it must be maintained - if water creeps in the grain will blacken. For matching signs with posts we use normally use oak. We hold a lot of Oak in stock and our carpenters can make up almost any business signage to the customers requirements.

Tell us what you need and we will give you a price - 01769 561355

Click Here For More Information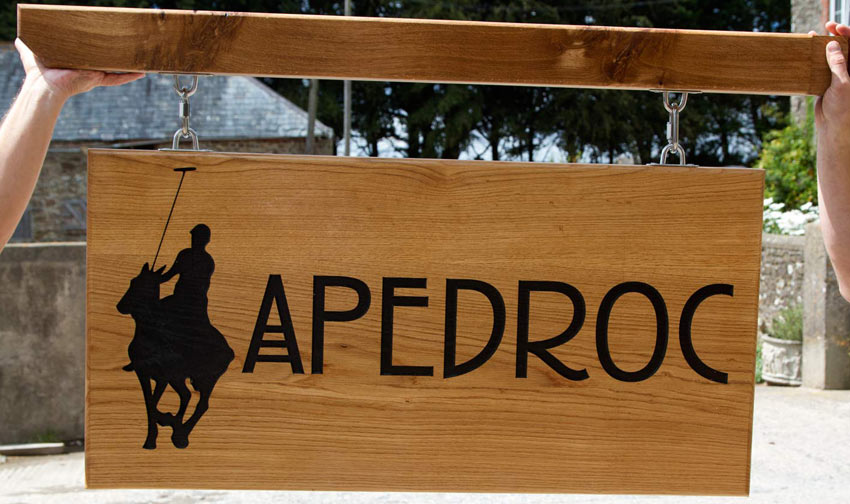 RED CEDAR

Our Red Cedar Sign is imported from Canada. They are made from laminated Western Red Cedar with a high quality vertical grain. Cedar has a high tannin content producing excellent weathering characteristics.

The timber also has a very short grain resulting in minimal checking and warping. It is light weight and yet very stable and extremely durable. The main disadvantage is the fact that it is a softer timber and therefore easier to damage. It is used a lot in America and can be sand-blasted into some fantasic signs - especially where the bachground is blasted away.

The timber can be oiled for a rich finish or left untreated to weather to a beautiful silver grey colour.

Click Here For More Details






Cedar Sign with Printed Aluminium Inserts


The cost of routering the wood to insert the plaque flush with the timber is £12 per plaque
DOUGLAS FIR

Although a softwood Douglas Fir is characterized by exceptional strength, hardness and durability. It is not only very tough but also water resistant, which makes it useful in exposed situations where maintenance can be difficult.

Not as beautiful as oak but if likely to be neglected it may be the better option. Having said that a maintained sign will always look better and last longer! Click Here For Full Details
IROKO
Iroko is similar to teak in appearance and is imported from West Africa. It has a colour which can vary but for signs it is usually a pale golden brown, although it can darken to a richer brown over time.

It has a medium to coarse texture with an interlocking grain that often produces interesting patterns.

It is an extremely dense and stable timber which is naturally oily and therefore highly durable and ideal for external signs. It is low maintenance and unlike oak it does not require regular oiling - it is a timber which can be left untreated.
SAPELE

Looks very much like mahogany, but has substantially less movement in service. It has a beautful deep red colour so looks fantastic with white letters.

It is also even harder than oak, but not as durable outside so should always be well maintained.

Timber - Oak


If the lettering is painted white the sign must be finisged with Osmo Oil instead of varnish.

Please note that there is always a risk of some movement in larger timber signs.On very large signs it is an idea to have large fixing holes and fix with bolts and washers to giving the timber the chance to move.



Call us for a quote - 01769 561355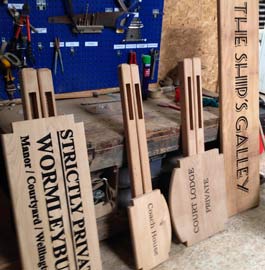 Place your Order
Online Shopping Cart


Its easy to order online. Pay by Card, Cheque Online Banking or via Amazon

By phone - 01769 561355 / 561314
Monday - Friday 9.00am - 5.00pm
By email - sales.signmaker@gmail.com
Design Your Own Sign / Plaque
.You create the design - we send you a quote
Easy Pay Tell us what you want - we will send you the price with an Easy Pay link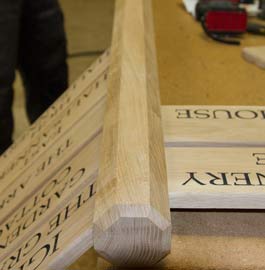 Didn't find what you were looking for?
Click on full colour
Site Map
or use search bar above.
Made in the UK. Our team at The Sign Maker looks forward to helping you with your large wooden sign.