Oval
B/W
Full
Colour
40mm x 60mm
£46
£75
50mm x 70mm
£48
£79
60mm x 80mm
£53
£89
80mm x 100mm
£62
£95
90mm x 120mm
£71
£105
110mm x 150mm
£99
£125
Round
50mm
£46
£75
60mm
£48
£88
70mm
£51
£92
80mm
£55
£97
100mm
£64
£106
120mm
£68
£128
Heart
B/W
Full
Colour
30mm
£44
£71
80mm
£66
£95
100mm
£77
£105
120mm
£88
£135
Rectangular
40mm x 60mm
£48
£83
60mm x 80mm
£55
£93
80mm x 100mm
£71
£97
90mm x 120mm
£73
£102
110mm x 150mm
£86
£126
130mm x 180mm
£115
£139

Order Now
Made from vitreous porcelain these plaques provide a permanent outdoor memorial using ceramic pigments which are fade resistant. Available in a several standard size these can be produced with the photo going right to the perimeter or have the edge feathering to white. If required colour photos can be converted to black and white or sepia.
The photo memorial plaque is then fired at 860C to give a durable and washable finish.
Best fixed with a waterproof tile adhesive.
P&P rate B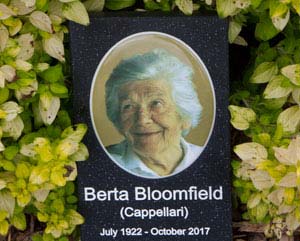 We can add a name and a date to an image. For more words please ask for a quote. We can also mount the ceramic memorial plaque onto Stone-like Corian and engrave the wording into the corian. We can also mount these onto Slate Plaques, Wooden Plaques, Slate Wedges, Granite Wedges and Oak Crosses
Exact reproduction of original colours is not possible with ceramic pigments and bright colours may appear slightly muted.
Backgrounds can be removed for an artwork charge of £14.