We can supply 3mm stainless steel bar to hold the cross just above the ground surface, making it easier to erect and prolonging its life.

Small - 230mm x 25mm - £12
Medium - 250mm x 25mm - £12.50
Large - 300mm x 25mm - £13
Extra Large- 400mm x 40mm - £24
Sold with screws and holes drilled. Other lengths can be cut to order.
Add £14.50 if using with corian as squirrel fixings will be needed.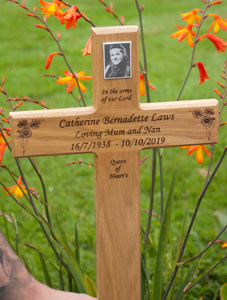 Made from vitreous porcelain these plaques provide a permanent outdoor memorial using ceramic pigments which are fade resistant. Available in a several standard size these can be produced with the photo going right to the perimeter or have the edge feathering to white. If required colour photos can be converted to black and white or sepia.
The photo memorial plaque is then fired at 860C to give a durable and washable finish. Click Here for Prices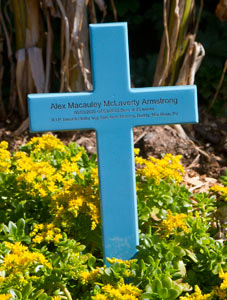 If you would prefer to have a high gloss finish we can coat with Coach-Kote. This is a clear version of the coach enamel used used on the kings carriages at Buckingham Palace.
The addition of an extra coat of Coach-Kote will also add even more durability to the cross both painted and natural wood.
Extra Cost: - Sm - £4, Med - £5, Lg - £8, XLg - £15, XXLg - £18